Dog Grooming
Welcome to the Spa @ Uptown, where you'll find the finest stylists,
best dog grooming products, and calmest salon in Indianapolis.
All grooming services, including nail trims, are by appointment only. We do not take walk-in clients at this time. You can request appointments or ask questions about grooming services by calling us or emailing us.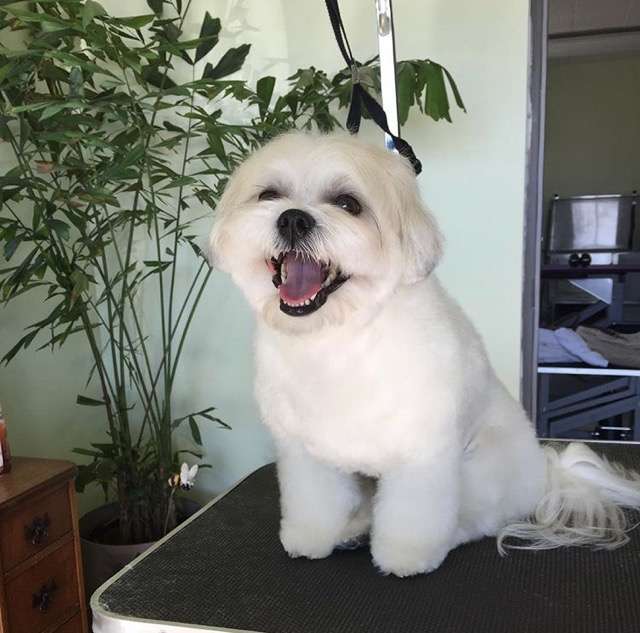 Our groomers are artists and true dog enthusiasts, and their passion shows in their styling skills and love for each dog. Each groomer adheres to Fear-Free principles, to ensure our dogs build a positive, life-long relationship with the grooming process. In addition, our salon provides our guests with low-noise/low-heat dryers, soothing Adaptil pheromones, towel warmers, and hydro-surge bathing for a calming experience.

All new grooming clients' first visit comes with a $20 Fear-Free assessment, to gauge each dog's comfort level with grooming, and inform the owners if the dog exhibits any fear, anxiety or stress with any stage of the process. There is a $45 deposit required to book for first-time clients. Click here to read more about our Fear-Free Pledge and the Fear-Anxiety-Stress (FAS) scale in dogs.
Grooming Services & Pricing
Spa Bath – shampoo & condition, hand blow-dry, undercoat removal, nail trim, ear-cleaning

Priced per dog size, as well as coat type, length, and condition. Call us for estimated pricing.

Trim-Up – all above, plus a trim around the eyes, paws, & potty patch

Priced per dog size, as well as coat type, length, and condition. Call us for estimated pricing.

Ultimate Groom – all above, plus a fully-body groom

Priced per dog size, as well as coat type, length, and condition. Call us for estimated pricing.
Grooming Extras
Dremel Filing: $13 add-on to nail trim
Blueberry Facial: $5-10
Snout Soother or Paw Protector: $4
Teeth Brushing: $9
Gland Expression: $11 w/bath or groom, $15 walk-in
Specialty Shampoo (whitening, herbal w/eucalyptus, blueberry, flea treatment): $8-$12
Dematting: $3 per minute
Requirements
All dogs must be current on their rabies, distemper/parvo combo, canine influenza (CIV), and bordetella vaccines.
Puppies of any age can begin grooming once they receive their 1st round of booster shots.
All newly acquired dogs should be given at least 2 weeks to acclimate in their new home before visiting us.
Grooming appointments are by reservation only and must adhere to our Cancellation Policy.

Meet Our Groomers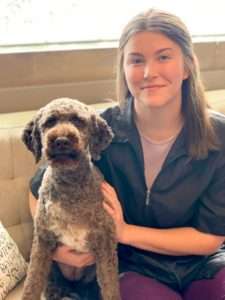 Alyssa Franklin
Alyssa is a natural with all species of animals and has spent her life caring for dogs, cats, hamsters, ducks, turkeys, and more. Her heart for animals and exceptional work ethic makes her critical to every part of our team. She began as a Leader in our daycare, resort, and grooming areas, and her favorite part about our profession has been learning to keep dogs comfortable and happy. These skills have helped her transition to full-time groomer, where she trained in the Salon @ Uptown and is now Fear Free certified. Alyssa is the proud owner of rescue pup Karev (aka Kurd or Karot), 3 kitties, and a spider Fiona.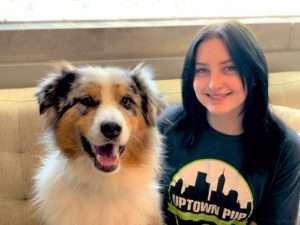 Zoe Hood
Zoe has loved dogs since she was young, and used to offer to bathe her family dogs as a child — which turned into a love of the process and desire to learn more about dogs and dog grooming. Her goal has always been to make dogs feel as safe and loved as possible, and she loves seeing owners happy about their dogs' haircuts. While she has a special place in her heart for pitties and dobermans, she loves all breeds and takes her time to learn and understand each individual dog and their personalities, needs, and comfort levels. Zoe is certified in Canine CPR and First-Aid and working toward her Fear Free certification. She is the proud owner of a long-haired black-and-white cat named Mitski, and an aunt to Scout the mini aussie.