Private Dog Training Lessons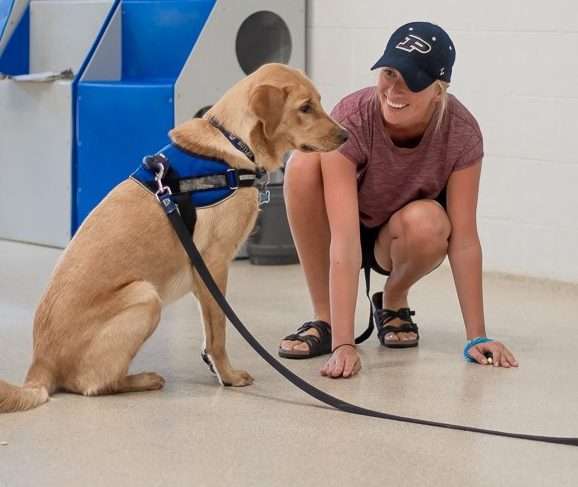 IMPORTANT ANNOUNCEMENT: From March 1st-August 1st, Jimmy Maxwell will not be taking new in-home clients without a referral from a canine care professional or another professional trainer. If you would like to request an in-home session with Jimmy, please email training@uptownpupindy.com. Your email should include your name, your dog's name, breed, and age, your training goals, and the referring professional. If Jimmy is unable to accomodate your needs at this time, we will assist you in finding the help you need.
If you are an existing client of Jimmy's, you can book sessions by also emailing training@uptownpupindy.com. Please list your preferred days and times and Jimmy will work with you to get scheduled.
Our Goals
Private dog training lessons with our KPA-CPT Certified trainers are customized, convenient, and focused. We're located in Indianapolis but serve surrounding counties, so sessions can take place in a location ideal for you, with a customized plan to achieve your goals.
If needed, initial zoom consultations are free, in-home private consults are $15.
Based on the consult, you and your trainer devise a plan of action.
Video sessions are $60/hour, voice-only sessions are $15/30-min or $60/hr. In-person sessions are $125/hr
A travel cost of $.50 per mile will be applied to any miles traveled over 10 miles round trip from the Uptown Pup facility.
Your trainer teaches you and your dog the skills to reach your goals.
Private lessons are often ideal for complex behavioral issues.
Trainers customize plans for between your sessions, as repetition/consistency are critical to success.
If you would like to book in-home, or zoom consultations, please make your request in your paw partner account. You can setup your account by going to www.pawpartner.com and set Uptown Pup as your preferred business. You will then be able to request consultations.

For all other private session questions or scheduling needs, please contact our training department by emailing training@uptownpupindy.com or calling 317-757-8509 option 1.

To learn more about our trainers click here