Private Dog Training Lessons
Covid-19 Update: Due to the mandatory shut-down as well as the social distancing efforts by our training staff, we are not currently offering any in-home training sessions or consultations. We will be offering video and phone consultations and training sessions at a discounted rate which are detailed below. For more information or to request training services please call 317-749-0728 or email the training staff directly at training@uptownpupindy.com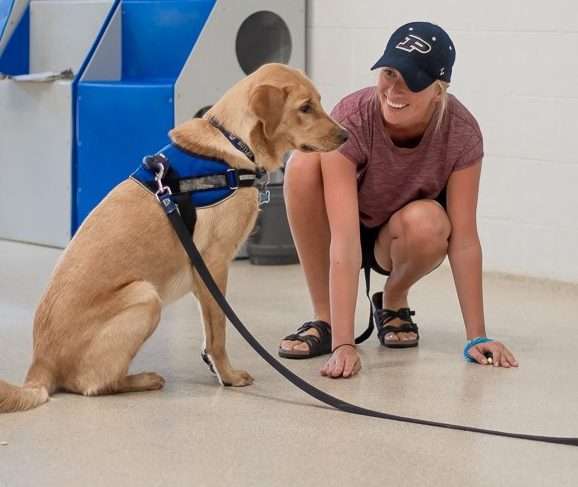 Our Goals
Private dog training lessons with our KPA-CPT Certified trainers are customized, convenient, and can tackle any behavioral goal. Sessions take place in a location ideal for you, with a plan devised specific to your dog's needs.
If needed, initial phone consultations are free, to outline needs and goals.
Based on the consult, you and your trainer create an ideal action plan and number of sessions.
Video sessions are $60 per hour, voice only sessions are $15 for 30 minutes or $60 for an hour.
Your trainer teaches you and your dog the skills to reach your goal.
Private lessons are often ideal for more complex behavioral issues. 
Trainers create custom plans for between your sessions, because repetition and consistency are critical to success.
Our Trainers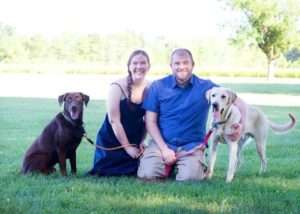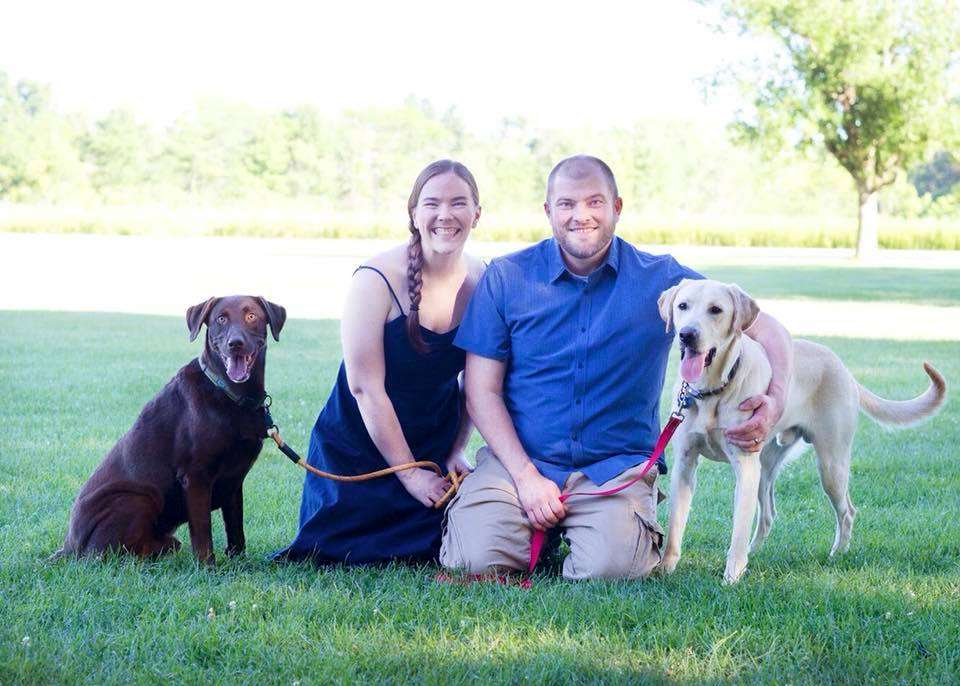 Jimmy Maxwell
Jimmy began formally training dogs in 2010, when he and his lab Lambeau became a search-and-rescue team. He quickly learned the power of positive dog training and used those skills in search and rescue, then went on to train service dogs throughout the country. With 9 years experience in youth ministry, Jimmy has a heart for people as well as dogs. Through his training practices, he unites those passions to help humans and dogs communicate and learn from eachother. Jimmy is a graduate of Karen Pryor Academy for Animal Training and Behavior. He lives in Speedway with his wife Kelli and their labs Lambeau and Copper.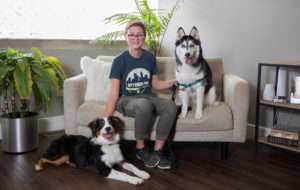 Katie Spruill, KPA-CTP
Katie is a graduate of the Karen Pryor Academy for Animal Training and Behavior. And she earned her CTP designation from the Certification Council For Professional Dog Trainers. Katie has an innate gift for understanding dogs' learning processes. Her knack for positive-reinforcement extends to humans as well, and our staff considers her the most positive ray of sunshine we've ever met. She's the proud owner of Havoc the Aussie and Gypsy the Husky. Her goal is to empty animal shelters everywhere, and she loves dog butts more than anything in the world. And will talk about them at great length.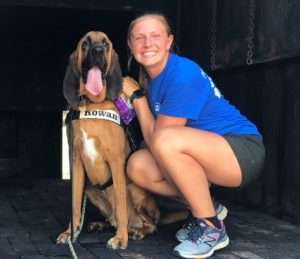 Anna Dehnke
When you hear Anna say she's been around dogs her entire life, believe it! All in all, she's helped rescue/foster more than 300 dogs with her family. Her pride and joy is Rowan, a bloodhound and trailing dog on her search and rescue team, Hoosier State Search and Rescue. She's also the proud owner of a Friesian/Thoroughbred. Her passion for helping people find behavioral solutions led Anna to her certification with the Karen Pryor Academy We consider ourselves incredibly lucky to have her on our team! When she's not training dogs, you'll find her hiking, mastering triathlons, and enjoying the outdoors.
FAQ
See our FAQ Page for more details on private dog training lessons, and our other training options. Or contact us directly at training@uptownpupindy.com.