Indianapolis Canine Fitness
Please note, our Fitness Program will be temporarily suspended starting May 1 until further notice, due to our facility expansion and renovation. Thank you!
What is Canine Fitness? It's personal training for your dog!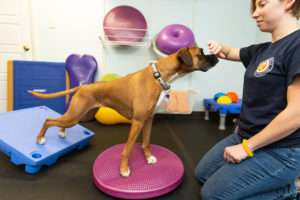 We're proud to have one of the foremost Indianapolis Canine Fitness programs! Like humans, dogs need exercise to stay in top physical and mental shape. A canine fitness program teaches you and your pup special exercises through positive-reinforcement techniques. Once you master the basics, the sky's the limit. Kathleen Schonsheck, Indianapolis Canine Fitness Trainer, received her CCFT certification through the University of Tennessee. Her programs are custom-designed to each individual dog. The results help pups live their longest, healthiest life!  
Puppy Activities
Puppies benefit from fitness routines in many ways. First, introducing them to fitness equipment exposes them to various surfaces and textures. As a result, they learn to bravely, confidently investigate new stimuli. In addition, learning fitness behaviors also develops body awareness and control. This is especially important for large, sport, and working dogs. 
Everyday Fitness
& Performance Enhancement
Each year, many canine athletes and pet dogs are injured doing what they love most. A fitness program can help prevent injury by improving strength, balance, control and awareness. Not to mention, you can tailor your program to suit your pup's favorite activities!
Dog Yoga
Our Dog Yoga helps improve strength and flexibility. Furthermore, it builds confidence in dogs with mild anxiety or trouble socializing. Learn poses, actions, and facial expressions to promote well-being and good social skills!
Weight Loss
Many of our canine companions are overweight. Over time, this adds stress to joints and can lead to arthritis, diabetes, cancer, and other conditions. A fitness plan can focus on reduced weight and improved endurance, thus helping your pup live a long, healthy life.
Healthy Aging
As our pups age, they can lose joint flexibility, strength, and muscle tone. Fitness not only maintains their physical condition, but engages them mentally. The result can add years to their life. If your dog struggles with daily activities or is a bit stiff when waking up, we can help!
Pricing: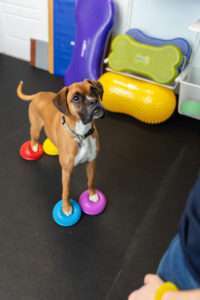 Introductory Special. FREE ASSESSMENT with daycare or boarding appointment!
Initial Program Design. $30
Initial Assessment. $75/90 min (includes Program Design).
Independent Exercise Program. Follow your program design at home and schedule once-monthly visits to re-assess and progress exercises. $60/hr  
Personal Training & Puppy Activities. Workout with our CCFT 1-3x/wk. $30/30 min or $50/hr.
Dog Yoga. 1-3x/wk, $45/30 min 
Requirements:
Candidates must submit the Fitness Training Questionnaire prior to initial meeting. Dogs who've had prior injuries, are being treated for a medical condition, or show signs of pain/disability may require veterinary evaluation/clearance prior to a fitness program. Dogs who have spinal or neurological conditions, are recovering from injury, or are morbidly obese (Body Condition Score of 9) aren't candidates for canine fitness. These pups should see a veterinarian and canine rehab professional to achieve their health goals.