Group Dog Training Classes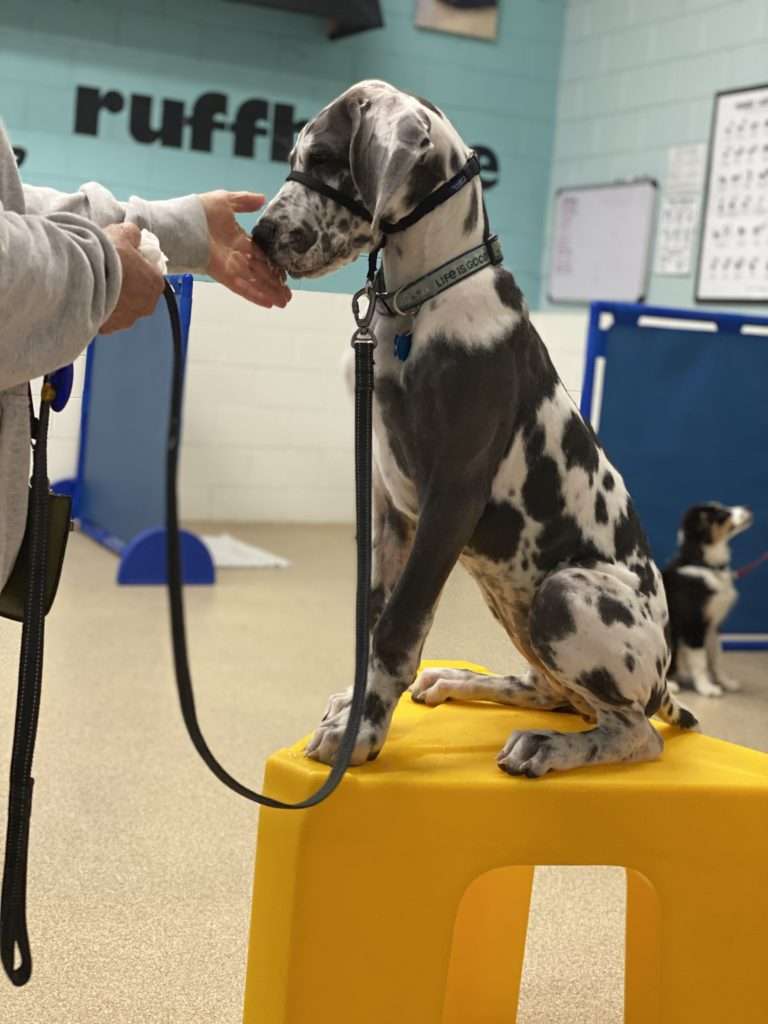 Uptown Pup group classes are developed by our Karen Pryor certified trainers, and meet weekly (unless otherwise noted) from 7-8pm in our facility. Fee is $175 unless otherwise noted.
Please note: Group classes may not be appropriate for dogs with behavioral issues, such as reactivity, aggression, or separation anxiety. If you aren't sure if group class is right for you, feel free to contact our trainers at training@uptownpupindy.com or 317-749-0728.

To enroll, or to sign up for waitlists for full classes,
call our Front Desk during business hours at 317-757-8509 and select Option 3.
This course begins your journey to a great canine companion through puppy socialization & the foundations of positive training. You'll learn base behaviors like eye-contact and focus, re-call, sit, down, and more. In addition, we teach puppy communication and uncover the ways your dog communicates with you. For dogs 6 months and under.
Vaccination Requirements: Uptown Pup requests that puppies adhere to the vaccination schedule as recommended and outlined by your veterinarian. As long as your puppy is up to date on the vaccination schedule outlined by your vet, you are eligible for Puppy Start Right.

Wednesday October 11th – November 1st – 2 spots left!
Wednesday November 15th – December 6th

More classes to be announced soon

Foundation Behaviors
Set up your dog for success with this sought-after course, which teaches eye-contact, focus, attention, re-call, loose-leash walking, sit, stay, down, and mat relaxation. A great way to bond with your dog, boost confidence, and create a common language between dog and owner. For dogs of all ages.
Monday November 6th – November 27th
More class dates to be announced in the New Year!

Intermediate
Help your dog listen to you in every environment with this course, which adds the 3 D's — Distance, Duration, and Distraction — and strengthens a dog's skills in leash walking, focus, re-call, relaxation work, and more. For graduates of Foundation Behaviors or dogs already fluent in basic cues.
Thursday November 16th – December 14th
Advanced
For dogs who've completed Intermediate and want to apply everything you've learned to real-world situations. This class includes 3 field trips to dog-friendly locations in Broad Ripple, which help dogs learn and hone skills in distracting environments.
None scheduled at this time