Dog Daycare 2.0
Our Indianapolis dog daycare focus is smaller group play, safer dog-to-human ratios, and cognitively engaging activities. Dogs love our bubble time, pool and sprinkler fun, brain challenges, and other boredom-busting group games!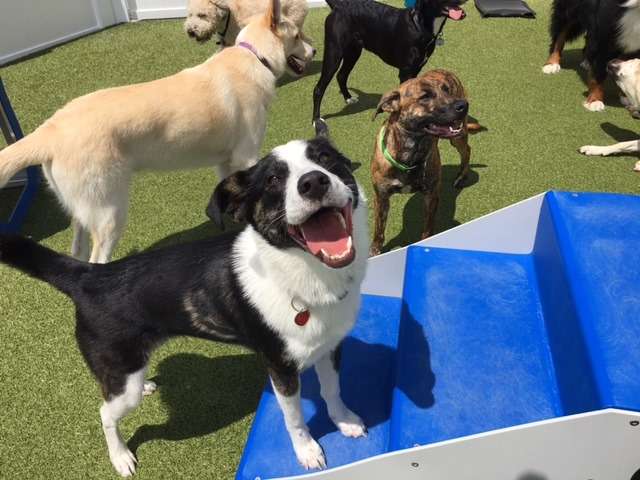 *Please Note: Our Daycare is currently at capacity and on a wait list.
If you'd like to add your name to the list, please email us at manager@uptownpupindy.com with your name, contact information,
age/weight/breed of your dog, and which days of the week you'd prefer
(if you have a preference). Thank you!
Uptown Pup's Indianapolis dog daycare encourages frolicking and fun with our Daycare 2.0 format. We keep groups small and engage dogs in interactive games and challenges, which creates a happy, healthy environment. In addition, we want dogs to thrive in our program, so we conduct thorough evaluations, encourage weekly or bi-weekly visits, and limit visits to twice weekly to prevent burnout.
Guided by staff members, your pup will …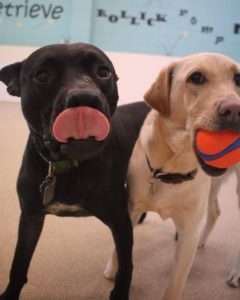 Play with other canines. Form friendships. Learn from other pups.
Engage and bond with humans through cognitive challenges and games.
Frolic during bubble time, splash in the pool, learn group tricks, and much more.
Expend mental and physical energy in a healthy way.
Important note to parents: We conduct evaluations on each dog's first day. If your pup doesn't enjoy group play, we let you know and suggest other activities to suit his/her personality. In addition, we encourage weekly/bi-weekly scheduling and 1-2 visits/week to prevent burnout. Click here for our Daycare Welcome Letter and Application.
Dog Daycare Amenities
Exciting activities, including agility equipment and exercises, bubble time, pool time, sound and sensory experiences, and other engaging games and cognitive challenges.
Groups based according to size, temperament, and comfort.
Free-roaming indoor-outdoor access to our K9 Grass yard (weather-permitting).
Exceptional staff trained with the renowned Dog Gurus system, for skilled guidance, interaction, and attention.
Private rest breaks in a Resort suite for safety, and to prevent burnout. Dogs may bring lunches/snacks to eat during breaks at no cost.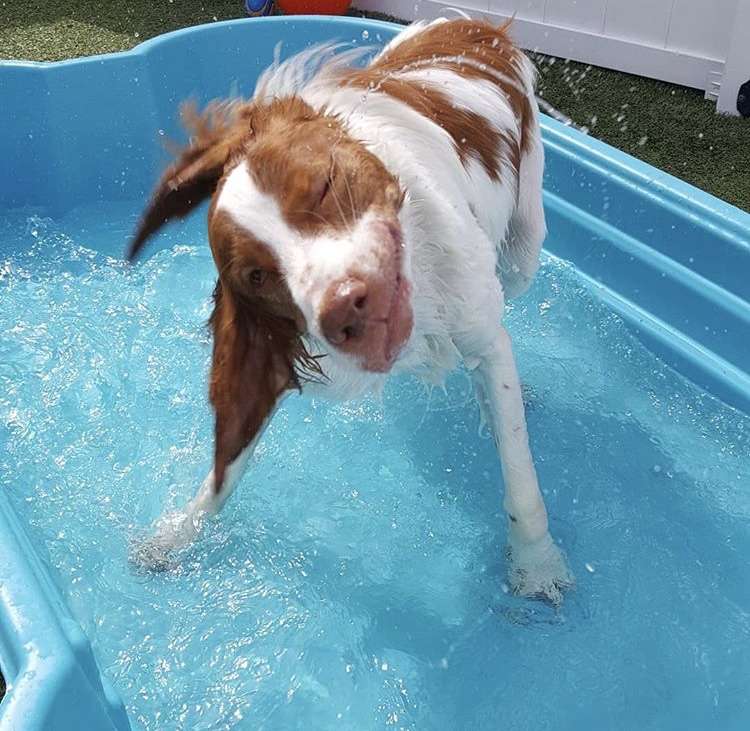 Pricing
Full Day: $38
Packages:
5 for $180 ($36/day)
10 for $340 ($34/day)
30 for $960 ($32/day)
Daycare Dog Requirements
Weekday drop-off 7-10am, pick-up 4-7pm. Saturday drop-off 8-10am, pick-up 3-5pm.
Current rabies, distemper/parvo combo, bordetella, and CIV vaccines.
All newly acquired dogs should be given at least 2 weeks to acclimate in their new home before starting daycare.
Puppies can join at 10+ weeks, after their 2nd round of booster shots.
Spayed/neutered upon signs of sexual maturity. Puppies left intact after 6 months will be evaluated on an ongoing basis.
To start: Complete our app and call to schedule with us: Dog Daycare Application.
Must adhere to our cancellation policy.