Spa
Welcome to the Spa at Uptown, the best dog grooming Indy has to offer.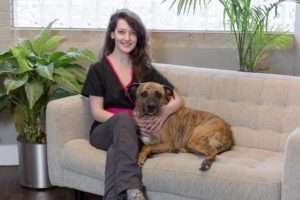 Our grooming team is full of amazing artists and true dog lovers. Their passion shows in their haircuts, and in the love they have for the dogs. And they use low-noise equipment, low-heat dryers, and proven calming techniques to keep make sure each dog has the smoothest possible grooming experience.
Grooming Services & Pricing
Spa Bath – bath, brush, blow-out, nail trim, ear-clean

Priced per doggie size, as well as coat type, length, and condition. Call us for estimated pricing.

Trim-Up – all above, plus a trim around the eyes, paws, & potty patch

Priced per doggie size, as well as coat type, length, and condition. Call us for estimated pricing.

Groom – all above, plus an all-over groom per your specifications

Priced per doggie size, as well as coat type, length, and condition. Call us for estimated pricing.
Daycare Club before/after your groom: $15 in addition to groom
Grooming Extras

Walk-in Nailtrim: $12+up
Nail Polish (front paws): $10
Dremel Filing: $10 w/bath,
$22 walk-in
Color splash: $15+
Feathers, jewels, etc: $3+
Temporary tattoo: $8
Blueberry Facial $5-10
Snout Soother or Paw Protector: $3
Soothing Pawdicure (foot bath, nail trim, nail file, trim paw pads, paw protector) : $30
Express Glands: $10 w/bath, $14 walk-in
Ear Cleaning Walk-in: $8
Teeth Brushing: $8
Specialty Shampoos (whitening, herbal w/eucalyptus, blueberry, flea treatment): $8-$12
Shedless Treatment: $20+ depending on size/coat
Dematting: $65/hour
Requirements
All dogs must be current on their rabies, distemper/parvo combo, canine influenza, and bordetella vaccines.
Puppies of any age can begin grooming, once they receive their 2nd round of booster shots.
Grooming appointments are by reservation only and must adhere to our 24-hour cancellation policy
Meet our Groomers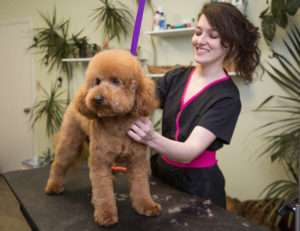 Britt Miller, Salon Manager
Britt has won several grooming competitions, including 1st Place at the International Judges Association Indy Pet Expo in 2016. Her philosophy is to focus on the health, happiness, and well being of each dog though a positive grooming experience and lifelong commitment to her client. Britt is certified in Canine CPR & First Aid, and she is currently working toward achieving Master Groomer status.
Becca Breheim
Becca has been a certified groomer since 2016 and is also Canine CPR & First Aid certified, A.K.C Safety certified, and has training as a canine skin and coat aesthetician. Her skills are only matched by her love and concern for all the pups on her table, and she is experienced and talented with all sizes, breeds, shapes, sizes and temperaments of dogs. 
Allison Moore
Allison has been an animal lover her entire life. She is an Animal Behavior College Certified Pet Groomer, earned her Fear Free Groomer certification early in her career, and is Canine CPR & First Aid certified. She has a talent for keeping dogs calm on the table through her gentle, nurturing demeanor and exceptional handling skills. She is also a foster mom for Our Lil Bit of Heaven rescue, and also volunteers her spare time taking photographs and caring for the dogs in the rescue.