Dog Training

Uptown Pup offers a range of dog training options to fit a wide range of lifestyles and goals. Our training programs are built on the science of positive-reinforcement and force free training methods. Each of our skilled, passionate, and committed trainers are here to help you achieve your dog training goals. The goal of our program is to:
Help you understand your dog's cognitive processes and capabilities.
Guide you in teaching your dog new behaviors and modifying existing ones.
Build a common language between you and your dog.
Strengthen the ever-important human-animal bond.
Boost your dog's overall confidence.
Teach you training skills that you can apply at home to help you and your dog be successful in the future.
Read on for more information about our Group Courses, Private Lessons, Day School and Boarding School. If you aren't sure which option is best for you, our trainers are happy to help you determine what the best option is for you and your training goals. You can reach them by emailing training@uptownpupindy.com or calling their direct line at 317-749-0728
If you have any questions regarding our training services please read our FAQ at the bottom of this page.
Dog Training Group Classes
Group classes are social, engaging, and information-rich. All group classes have limited enrollment and a teacher-student ratio of 1:3 or better. Classes are 4 weeks for $150 (unless otherwise noted).
Puppy Start Right

Give your pup the best start in becoming a great canine companion. This course will help you learn what is best for your pup during that critical first six months of their life. This class will also help you avoid some of the more common behavioral issues many adult dogs experience later on. This class includes a socialization time that includes play with other puppies in safe and controlled environments.  This class is only for puppies 6 months & under regardless of size.
*Enrollment now open for Tuesdays, Oct 29th – Nov. 19th!*
Foundation Behaviors

Teach your dog to focus on you and respond to your cues when it matters most. Through positive reinforcement based training, this class teaches you and your pup to not only understand each other, but how to communicate. After this class dog's find value in focusing on their people, relaxing, and are eager to learn through basic obedience cues and techniques.
Upcoming Dates and Times: All classes 7pm-8pm
Monday October 28th – November 18th FULL
Thursdays, Oct. 24th – Nov. 21st
(no class on Halloween)
Intermediate Behaviors

Have you completed our Foundations course and want to teach your dog how to work through distracting environments, at a distance, or maintain their skills for longer periods of time? This class will highlight the skills needed to do just that so your dog can soon become that walker, park goer, or the calm host dog you always wanted!

Completion of Foundations required or approval from class instructor. Call the trainers with questions. 317-749-0728
*Enrollment is now closed for this course. Please stay posted for upcoming enrollment dates or email a request to training@uptownpupindy.com*
Canine Good Citizen Testing

There are many benefits to earning the AKC's Canine Good Citizen title. $35 per attempt, pass or fail.
$10 for working or service dogs. Contact us to make sure you qualify.
Loose Leash Walking Class

A three week course that gives you and your dog the skills to walk together like a team. $100 per dog
*Enrollment now open for Fridays, Nov. 1st – 15th*
Dog Day School
Our Day School is a Monday through Friday program focused on helping your dog gain basic skills and manners. Each student receives two 30-minute training sessions, one 15-minute loose-leash walking lesson, in-suite enrichment activities during down time, and 1 hour of training group play OR 30 minutes of private play time. Lastly, each week you'll schedule two parent-teacher conferences and receive homework, which helps you keep up with what your pup is learning! May not be suitable for dogs with separation anxiety or reactivity/aggression.
Basic Level:

Covers basic obedience skills, such as sit, down, come, and mat work, ideal for dogs of all ages. $300/wk or 4 consecutive weeks for $1000.

Canine SuperStar:

Add four 30-minute fitness training sessions per week (Wednesday is rest day) and receive a home program designed by our Certified Canine Fitness Trainer to maintain your dog's fitness. +$100/wk.
Dog Boarding School
The Uptown Pup Boarding School is unique to Indianapolis! Your pup will love having focused training sessions during their Resort stay with us. Dogs receive one hour of dedicated training time each day, with e-mail updates sent daily. Upon pickup, your pup's trainer will provide a one-hour private session in your home to ensure carryover from school. May not be suitable for dogs with separation anxiety or reactivity/aggression.
Loft boarding: $600/wk (6 nights, 7 days)
Penthouse boarding: $675/wk (6 nights, 7 days)
BOOT CAMP: Add five 30-minute fitness sessions per week and receive a home program designed by our Certified Canine Fitness Trainer. +$120/wk
Private Dog Training Lessons
If needed, initial consultations are free and help you and your trainer outline needs and goals.
Based on the initial consult, you and your trainer agree on a course of action and number of sessions that work for you. Sessions are hour-long at $100/hour.
The focused sessions are designed to teach you skills that help you and your pup achieve behavioral goals; ideal for more complex behavioral issues. 
Trainers provide helpful homework for between sessions, as repetition and consistency are critical to your dog's success.
Dog Training Documents
Dog Requirements
Training clients must adhere to our Cancellation Policy.
Dogs must be current on their rabies, distemper/parvo combo, bordetella, and canine influenza vaccines. 
Puppies must have at least their second round of booster shots.

Fees for training services are nonrefundable, but transferable to alternate training options.
Meet Our Trainers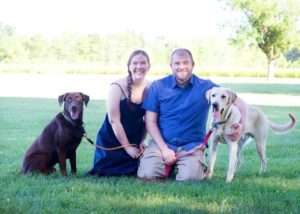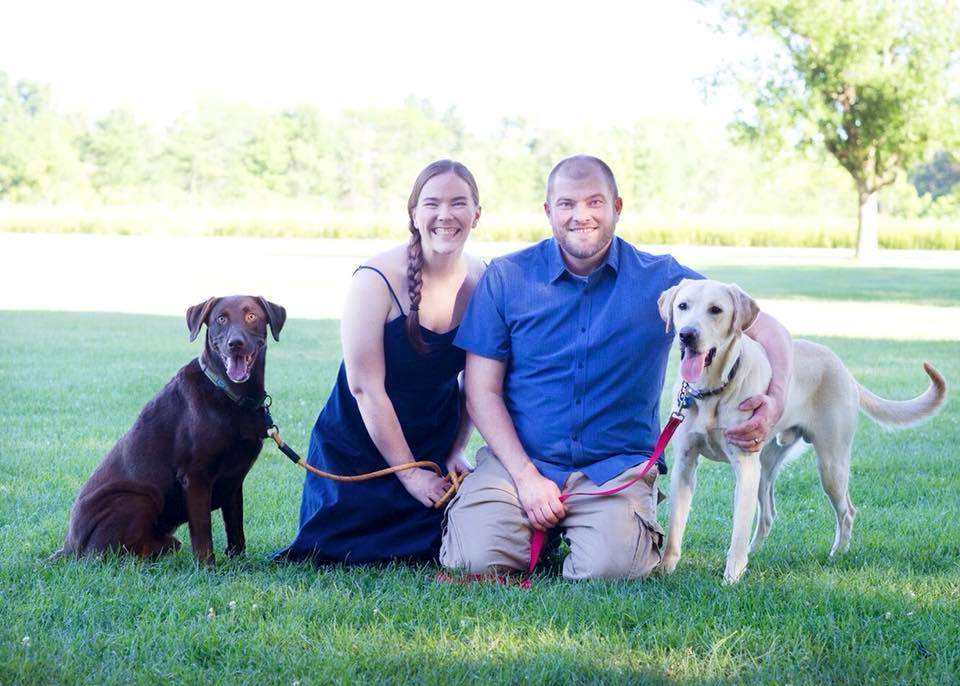 Jimmy Maxwell
Jimmy began formally training dogs in 2010, when he and his lab Lambeau became a search-and-rescue team. He quickly learned the power of positive dog training and has used those skills in search and rescue, as well as training service dogs for people throughout the country. With 9 years experience in youth ministry, Jimmy has a heart for people as well as dogs. Through his training practices, he aims to unite those passions by helping humans and dogs communicate and learn from each other. Jimmy lives in Speedway with his wife of 12 years, Kelli, and their 2 labs, Lambeau and Copper.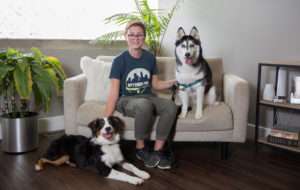 Katie Spruill KPA-CTP
Katie is a graduate of the Karen Pryor Academy for Animal Training and Behavior, where she earned her CTP designation from the Certification Council For Professional Dog Trainers. With her gift for understand a dog's learning processes, Katie improves the quality of life of every dog she trains. Her knack for positive-reinforcement extends to humans as well. Our staff knows her as the most positive ray of sunshine you'll ever meet. She's the proud owner of Havoc the Aussie and Gypsy the Husky. Her goal is to empty animal shelters everywhere, and she loves dog butts more than anything in the world and will talk about them at great length.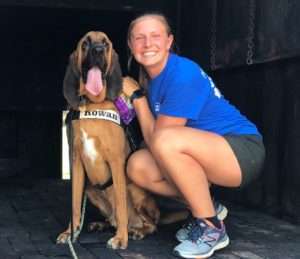 Anna Dehnke
When you hear Anna say she's been surrounded by dogs her entire life, believe it! All in all, she has helped rescue and foster more than 300 dogs with her family. Her pride and joy is Rowan, a 3-year-old bloodhound and trailing dog on her search and rescue team, Hoosier State Search and Rescue. She also has a 14-year-old Friesian/Thoroughbred. Her passion for helping people find behavioral solutions with their ups led Anna to become a certified training professional through the Karen Pryor Academy  We consider ourselves incredibly lucky to have her on our team! When she's not training dogs, you'll probably find her hiking, mastering triathlons, and enjoying the outdoors.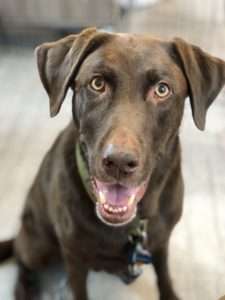 Lambeau Maxwell
You may see Lambeau around our facility, hanging out with the trainers, or helping fellow dogs with their reactivity and socialization. When Lambeau isn't working at Uptown Pup he's training hard to maintain his state and local search and rescue certifications for Hoosier State Search and Rescue with his owner and handler Jimmy Maxwell. In his free time he likes to eat, sleep, and chase tennis balls.
FREQUENTLY ASKED QUESTIONS
Q: I would like to take Puppy Start Right. My dog is under 6 months now, but won't be when class starts. Can I still sign up?
A: That is a really good question. The answer depends on how much older your dog will be at the start of class. The Puppy Start Right class is for dogs six months and younger because it is during a critical socialization window. Typically if your dog is going to be a 7+ months by the start of class we recommend Foundation Class. However, it can also depend on breed and size. If you aren't sure, please contact our training staff and we will help you make the right call.
Q: I want to take Puppy Start Right, but I'm nervous about taking my puppy out until he has had all of his vaccinations. Should I wait?
A: We understand and appreciate that you want your puppy to be safe and happy. We are not medical professionals, so we always recommend you consult your veterinarian (not google) to seek guidance and advice regarding when it's right to take your puppy out or experience a group class.
Q: My dog has a lot of issues. I don't know if I should take a class, dayschool, or private sessions.
A: In all training situations we want to set dogs up for success. If there is an issue that you feel may or may not be addressed by a particular service, the best thing to do is contact our training staff. If needed we can schedule a free in-home consultation to meet you and your dog to help determine your training goals and what the best approaches would be to help you meet them.
Q: If I sign my dog up for day school, and miss a day, do I eat the loss or can I schedule a makeup day?
A: We recognize that all dogs, schedules, and learning styles are different and dogs are not robots. If a dog is not feeling well, is tired, or you miss a day due to an emergency or vacation, we can always schedule make-up days at the tail end of the training. Sometimes our training staff even recommends a day off if we feel it will benefit the dog.
Q: I got off work early. Can I pick my day school dog up early?
A: Our training staff often has multiple dogs to train in a given day, and we meticulously schedule our time in order to meet the needs of all of our four legged students. We recommend you drop off your day school dog by 10 pm in the morning and pick him up no earlier than 4 pm. You are welcome to pickup earlier, but any remaining training time for that day may be forfeited unless you make other arrangements with a trainer. If you know in advance that you will need to pickup early, please notify our training staff so we can make an effort to get all the training in before your pickup time. If you need to consistently pickup earlier than 4 pm, special considerations can be made as long as we know in advance.