Dog Training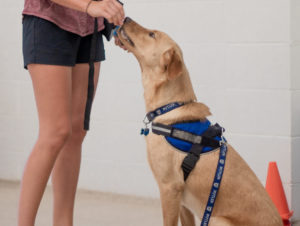 Uptown Pup offers a range of canine dog training options to fit every need. Our dog training programs are dedicated to the science of positive-reinforcement conditioning. Our skilled, passionate, and committed trainers are here to help you achieve your dog training goals. We will:
Help you understand your dog's cognitive processes and capabilities.
Guide you in teaching your dog new behaviors and modifying existing ones.
Build a common language between you and your dog.
Strengthen the ever-important human-animal bond.
Boost your dog's overall confidence.
Read on for more information about our Group Courses, Private Lessons and new Day School and Boarding School. If you aren't sure which option is best for you, our trainers can help. Email training@uptownpupindy.com for more details.
Dog Training Group Classes
Group classes are social, engaging, and information-rich. All group classes have limited enrollment and a teacher-student ratio of 1:3 or better. Classes are 4 weeks for $150 (unless otherwise noted).
Puppy Start Right

Give your pup the best start in becoming a great canine companion. This course covers the basics of teaching new behaviors, how to communicate with your pup, and socialization with other puppies and new stimuli. The result is a confident, happy, attentive pup! Ages 6mo & under.

Puppy Foundations

Learn advanced puppy skills, such as: precise sitting, down, loose-leash walking, targeting, the basics of mat work, and focus. Ages 6-12mo. Pups under 6mo must complete Puppy Start Right.

Foundation Behaviors

An exceptional course that sets adult dogs up for success. Ideal for newly adopted dogs or those new to training. Lessons include: eye contact, name & recall, leash walking, cues such as sit/stay/down, touch- & hand-targeting, mat work, and much more. Adult dogs, or puppies who complete Puppy Start Right.

Intermediate Behaviors

For dogs who complete Foundations (or similar class) and are fluent in basic cues, this course challenges with the three D's: distance, duration, and distraction. Strengthen skills such as loose-leash walking, reliable re-call, mat relaxation, focus, and more. If you have the basics but want to learn how to do them anywhere, this is your class.

Advanced Behaviors

For dogs who complete Intermediate and want to take training to the next level. This course teaches the skills needed for behavior chains, a proper heel, emergency stops, and basic cues with high levels of distraction.

Canine Good Citizen Testing

There are many benefits to earning the AKC's Canine Good Citizen title. $35 per attempt, pass or fail. Special Discounts available for working or service dogs. Contact training@uptownpupindy.com for more information.
Special Topics

A rotating schedule of special interest classes. Programs are 4 weeks or less and cover topics such as: trick training, recall, introduction to canine sports, nosework, fitness, search & rescue, and more. Email training@uptownpupindy.com with questions or suggestions!
Dog Day School
Our Day School is a Monday through Friday program focused on helping your dog gain basic skills and manners … or modifying undesirable behaviors. Each student receives two 30-minute training sessions, one 15-minute loose-leash walking lesson, in-suite enrichment activities during down time, and 1 hour of training group play OR 30 minutes of private play time. Lastly, each week you'll schedule two parent-teacher conferences and receive homework, which helps you keep up with what your pup is learning! 
Basic Level:

Covers basic obedience skills, such as sit, down, come, and mat work, ideal for dogs of all ages. $300/wk or 4 consecutive weeks for $1000.

Elite Level:

For advanced skills or behavior modification (dog reactivity, fear of strangers, etc). Consultation required. $400/wk or 4 consecutive weeks for $1400.

Canine SuperStar:

Add four 30-minute fitness training sessions (Wednesday is rest day) and receive a home program designed by our Certified Canine Fitness Trainer to maintain your dog's fitness. +$100/wk.
Dog Boarding School
The Uptown Pup Boarding School is unique to Indianapolis! Your pup will love having focused training sessions during their Resort stay with us. Dog receive one hour of dedicated training time each day, with report cards sent to you at a frequency of your choosing. Upon pickup, your pup's trainer will provide a one-hour private session in your home to ensure carryover from school.
Loft boarding: $600/wk (6 nights, 7 days)
Penthouse boarding: $675/wk (6 nights, 7 days)
BOOT CAMP: Add five 30-minute fitness sessions per week and receive a home program designed by our Certified Canine Fitness Trainer. +$120/wk
Private Dog Training Lessons
If needed, initial consultations are free and help you and your trainer outline needs and goals.
Based on the initial consult, you and your trainer agree on a course of action and number of sessions that work for you. Sessions are hour-long at $100/hour.
The focused sessions are designed to teach you skills that help you and your pup achieve behavioral goals.
Trainers provide helpful homework for between sessions, as repetition and consistency are critical to your dog's success.
Dog Training Documents
Dog Requirements
Training clients must adhere to our Cancellation Policy.
Dogs must be current on their rabies, distemper/parvo combo, and bordetella vaccines. Beginning 2019, w will begin requiring the Canine Influenza Virus vaccine.
Puppies must have at least their second round of booster shots.

Fees for private lessons and group classes are transferable but nonrefundable.
Meet Our Trainers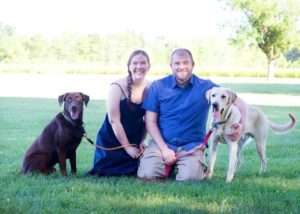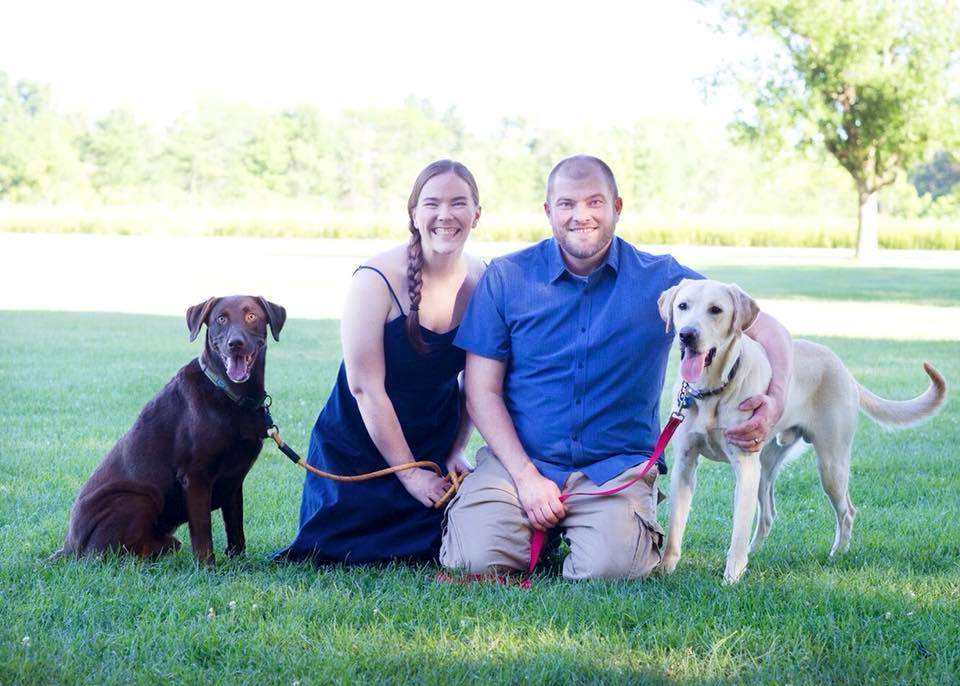 Jimmy Maxwell
Jimmy began formally training dogs in 2010, when he and his lab Lambeau became a search-and-rescue team. He quickly learned the power of positive dog training and has used those skills in search and rescue, as well as training service dogs for people throughout the country. With 9 years experience in youth ministry, Jimmy has a heart for people as well as dogs. Through his training practices, he aims to unite those passions by helping humans and dogs communicate and learn from each other. Jimmy lives in Speedway with his wife of 12 years, Kelli, and their 2 labs, Lambeau and Copper.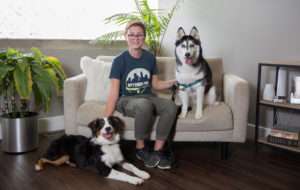 Katie Spruill
Katie is a graduate of the Karen Pryor Academy for Animal Training and Behavior, where she earned her CTP designation from the Certification Council For Professional Dog Trainers. With her gift for understand a dog's learning processes, Katie improves the quality of life of every dog she trains. Her knack for positive-reinforcement extends to humans as well. Our staff knows her as the most positive ray of sunshine you'll ever meet. She's the proud owner of Havoc the Aussie and Gypsy the Husky. Her goal is to empty animal shelters everywhere, and she loves dog butts more than anything in the world and will talk about them at great length.