About Us
Founded, owned, and managed by dog owners and enthusiasts, Uptown Pup uses the latest science in canine behavior to create the most ideal environment for dogs. Our Resort uses scientifically proven Dog Appeasing Pheromone (DAP) to help alleviate stress and separation anxiety, as well as music, scent therapy, and engaging treat puzzles designed by veterinarians to keep dogs calm and relaxed. Our Daycare and Enrichment components employ games, challenges, and activities designed to engage and stimulate the minds of dogs. And our entire facility uses fear-free handling and positive-reinforcement training techniques to build a positive, lasting bond with the dogs in our care.
Our most important asset, however, is our staff. We're proud of our team and their incredible love for dogs and extensive animal care and welfare backgrounds. Our staff is trained in Canine CPR and First Aid, as well as the reknowned Dog Gurus "Knowing Dogs 101 & 102" courses, to ensure a full understand of canine behavior, communication, and body language. Read on to learn more about our founders, our managers, and our entire team!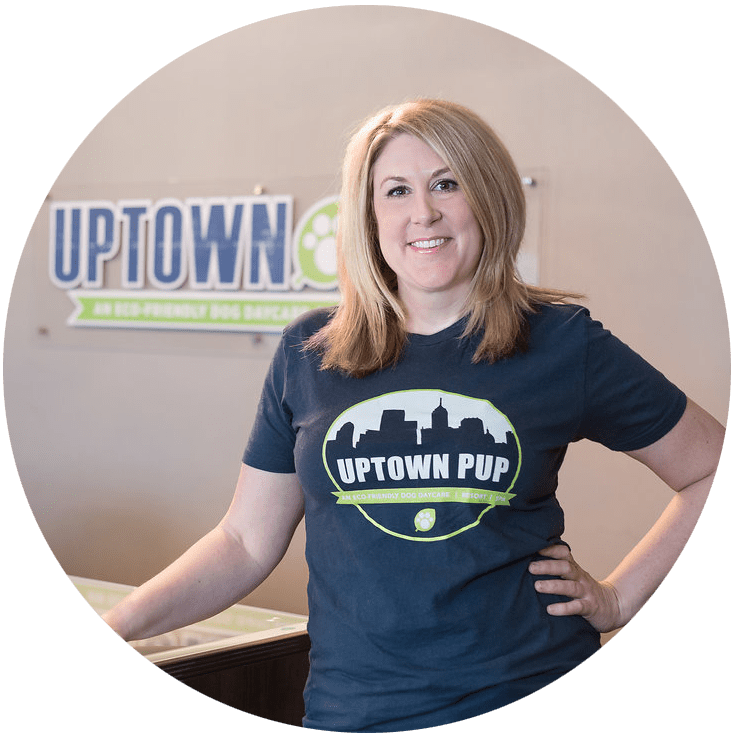 Mandy Stetzel, Owner
Mandy's fascination with dogs began as soon as she could talk (one of her first words was "dog" — you can ask her parents). From the moment she met her first pup, she recognized the incredible bond between humans and dogs, and knew canines have so much to offer our species and our planet. After working in the animal care and welfare fields, as well as researching dog psychology and behavior, she launched Uptown Pup. Her goal is to use the best science available to ensure our dogs have a truly joyful, healthy, enriching experience in our facility. In addition, she hopes to create happy staff and happy dog owners through the highest level of care and support.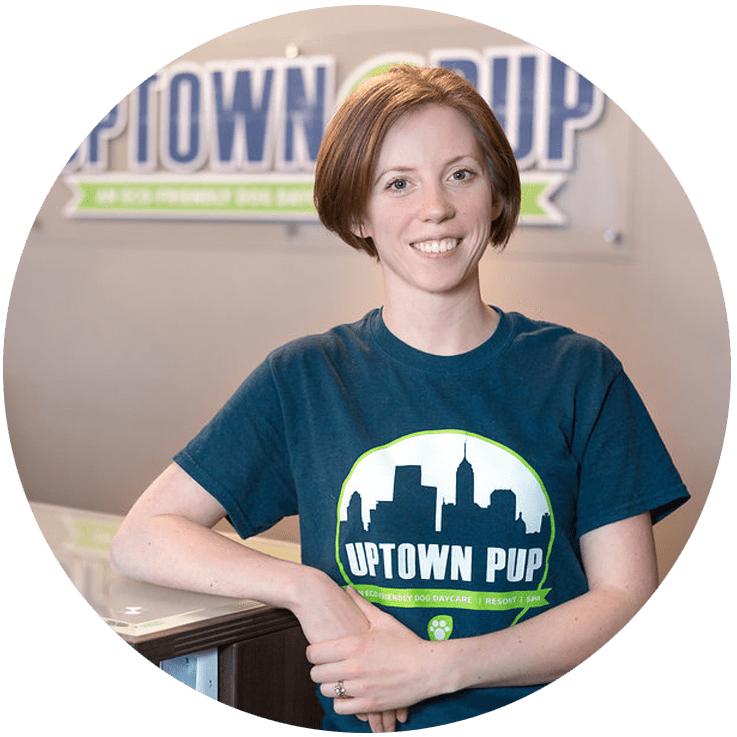 Kathleen Schonsheck
Kathleen has been a lifelong dog lover, with more than a decade of experience working in kennel, daycare, grooming, and shelter environments. After rescuing two dogs with special behavioral needs, she became especially interested and educated in dog behavior and body language. With her additional experience in human rehabilitation and personal training, Kathleen is deepening her knowledge of positive reinforcement dog training while working toward a Canine Fitness Trainer certification. Kathleen is passionate about cultivating healthy and enriching relationships between humans and their beloved companions.
Brianna Newby, Front Office Manager
Brianna has been working closely with animals of all species since 2011. She was a volunteer at the Indianapolis Zoo for 5 years, working in the deserts biome for the majority of her time there. Bri continued her passion for animals in the animal welfare field, as a staff member at The Humane Society of Indianapolis and a volunteer for  various local rescues. It was through one of these groups that Bri and her husband found and adopted their first dog together, Squirtle, a border collie mix and their pride and joy. Squirtle ignited Bri's curiosity in canine behavior, communication, and enrichment, which she uses regularly to improve the lives of our dogs at Uptown Pup.