About Us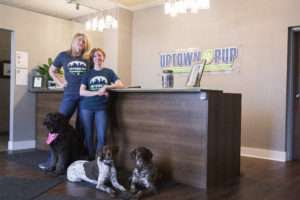 Founded, owned, and managed by dog owners and enthusiasts, Uptown Pup uses the latest science in canine behavior to create the most ideal environment for dogs. Our Resort uses scientifically proven Dog Appeasing Pheromone (DAP) to help alleviate stress and separation anxiety, as well as music, scent therapy, and engaging treat puzzles designed by veterinarians to keep dogs calm and relaxed. Our Daycare and Enrichment components employ games, challenges, and activities designed to engage and stimulate the minds of dogs. And our entire facility uses fear-free handling and positive-reinforcement training techniques to build a positive, lasting bond with the dogs in our care.
Our most important asset, however, is our staff. We're proud of our team and their incredible love for dogs and extensive animal care and welfare backgrounds. Our staff is trained in Canine CPR and First Aid, as well as the renowned Dog Gurus "Knowing Dogs 101 & 102" courses, to ensure a full understanding of canine behavior, communication, and body language. Read on to learn more about our founders, our managers, and our entire team!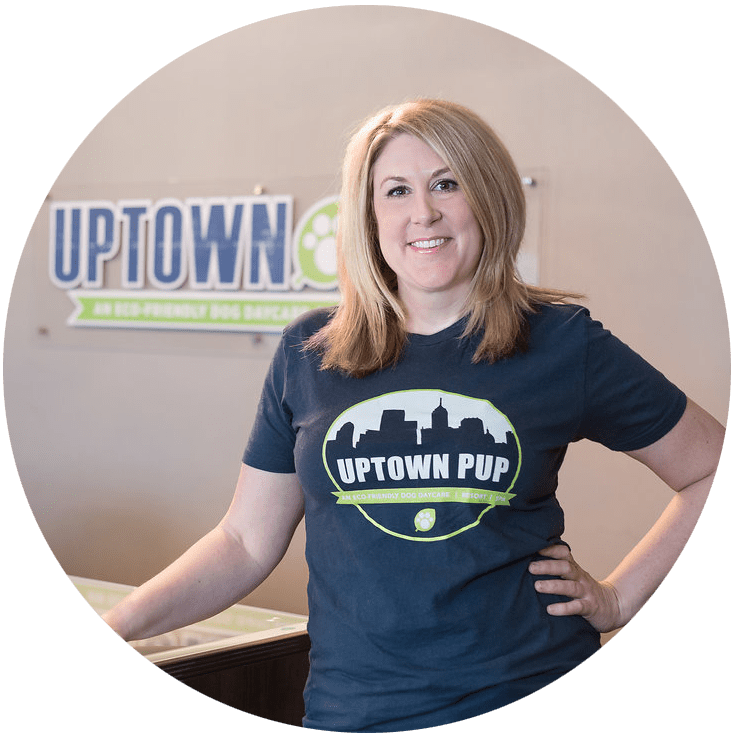 Mandy Stetzel, Owner
Mandy's fascination with dogs began as soon as she could talk (one of her first words was "dog" — you can ask her parents). From the moment she met her first pup, she recognized the incredible bond between humans and dogs, and knew canines have so much to offer our species and our planet. After working in the animal care and welfare fields, as well as researching dog psychology and behavior, she launched Uptown Pup. Her goal is to use the best science available to ensure our dogs have a truly joyful, healthy, enriching experience in our facility. In addition, she hopes to create happy staff and happy dog owners through the highest level of care and support.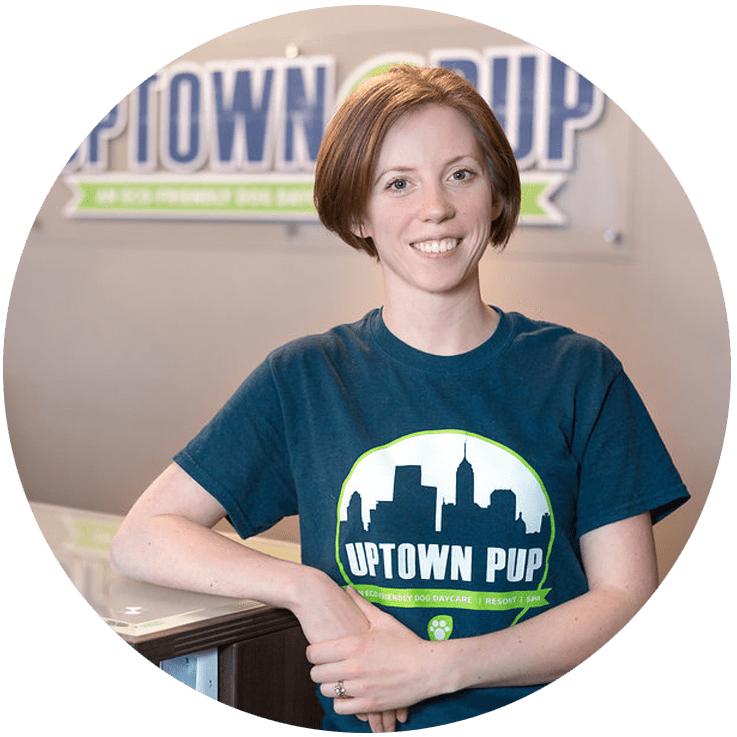 Kathleen Schonsheck, Owner
Kathleen has been a lifelong dog lover, with more than a decade of experience working in kennel, daycare, grooming, and shelter environments. After rescuing two dogs with special behavioral needs, she became especially interested and educated in dog behavior and body language. With her additional experience in human rehabilitation and personal training, Kathleen is deepening her knowledge of positive reinforcement dog training while working toward a Canine Fitness Trainer certification. Kathleen is passionate about cultivating healthy and enriching relationships between humans and their beloved companions.

Catherine Doggett, Daycare and Hotel Manager
Catherine was born to be an animal lover (seriously, the first three letters in her first and last name are Cat & Dog) and she has lived up to that. From a young age she has had such a curiosity for dogs and their behavioral needs and quirks. She started her journey through the animal world at age 5, dog sitting for a neighbor and has done so for many others over the span of 17 years. She shares her home with 2 rescue dogs and a rescue cat. Catherine is currently working on gaining more knowledge of dog psychology and behavior, with the hopes of one day owning a doggy rescue and rehabilitation center. She is a firm believer of positive reinforcement and maintaining happy and healthy relationships with all the dogs that she comes into contact with.

Nicole Sharp, Hotel Lead
Nicole has loved animals of all kinds since she was a little girl. She became a dog lover when she got her first puppy, Ginny (Basset Hound). While volunteering at an animal shelter, she found her beloved pup, Max (Lab Mix). She became obsessed with learning as much as she could about dog behavior and psychology in order to help him with his severe separation anxiety. Since becoming a member of the Uptown Pup team, her number one focus has been caring for the dogs in the resort like they are her own.

Nick Zachidny, Enrichment Lead