Canine Fitness
What is Canine Fitness? It's personal training for your pup!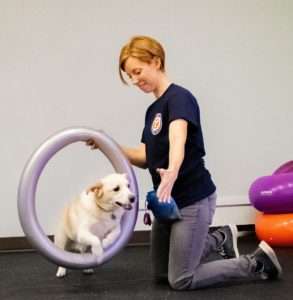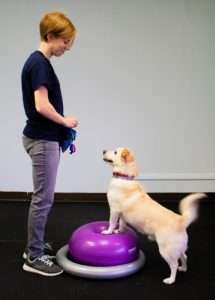 We all want our dogs to live long, healthy lives as our best friends and beloved family members. Just like humans, dogs need appropriate exercise throughout their lives to keep them in good physical and mental shape. As the owner, you will learn to train your dog to perform exercises using basic obedience cues; once you and your pup have mastered the basics, the sky's the limit on how you will incorporate these into your pup's routine! A Canine Fitness Program designed by our CCFT (Certified Canine Fitness Trainer) will give you the knowledge and tools you need to keep your pup in top condition for life.
Puppy Activities
Puppies benefit from the fitness experience in a multitude of ways. Introducing them to fitness equipment socializes them to different surfaces and textures and teaches them to bravely, confidently investigate novel environments and objects. Learning foundation behaviors develops body awareness and control, which is especially important for large breeds and sport/working dogs. Puppy parents learn about healthy exercise and begin to build the foundations of a wonderful relationship.
Everyday Fitness & Performance Enhancement
Each year, many canine athletes and pet dogs are injured doing what they love most. Adding a fitness program helps to prevent injury by improving strength, balance, body control and awareness in ways that are tailored to your pup's favorite sports and activities. Exercises can be performed indoors for rainy day fun as well!
Dog Yoga
Our style of Dog Yoga not only helps pups who need improved strength and flexibility, but also those who have mild anxiety or trouble socializing with other dogs. Learn poses, actions, and facial expressions to promote calmness, well-being, and good social skills in your pup.
Weight Loss
Many of our canine companions are overweight. Over time, this adds stress to their joints and contributes to the development of arthritis, diabetes, cancer, and other health conditions. We can develop a plan to reduce weight, improve endurance, and get your pup on the road to a long, healthy life.
Healthy Aging
As our pups age, just like humans they can develop joint stiffness and lose strength and muscle tone. Adding a fitness program to their routine will not only maintain their physical condition, but also engage them mentally, potentially adding years to their life. If your dog struggles with daily activities such as walking, going up and down stairs, or is just a little stiff when they wake up, we can help!
All potential candidates must submit the Fitness Training Questionnaire prior to initial assessment. Dogs who have sustained prior injuries, are currently being treated for a medical condition, or exhibit signs of pain or disability may require veterinary evaluation and clearance prior to beginning a fitness program. Dogs who have spinal or neurologic conditions, are currently recovering from injury, or are morbidly obese (Body Condition Score of 9) are not appropriate candidates for canine fitness. These pups should visit a veterinarian and canine rehabilitation professional (CCRP, CCRT) to achieve their health and fitness goals.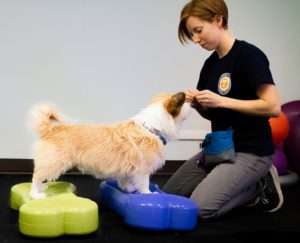 Pricing:
Introductory Special: FREE ASSESSMENT with daycare or boarding appointment!
Initial Program Design: $30
Initial Assessment: $75/90 minutes (includes Program Design).
Independent Exercise Program: Follow your program design at home and schedule a once monthly visit to re-assess and progress exercises. $60/hr  
Personal Training and Puppy Activities: Workout with our CCFT 1-3x/week. $30/30 min or $50/hr.
Dog Yoga: 1-3x/week, $45/30 min.